WHAT IS RETINOL?
Retinol is the gold standard ingredient in skincare, consistently recommended by dermatologists and heralded for its transformative effects on skin.  Retinol is a retinoid, a derivative of Vitamin A, that naturally occurs in skin.  Retinol works by boosting skin's renewal process and helps to diminish signs of aging including lines & wrinkles, sagging skin, and uneven texture.
SHOP ROC®RETINOL
WHY RETINOL
RoC was the first to discover the method for stabilizing Retinol, combining it with other ingredients, like Vitamin E and oxygen boosters, to make it safe and effective for daily use.  RoC has been perfecting this formula for more than 27 years with over 100 clinical studies, 75 safety studies, and 35 patents.  Every formula is scientifically crafted and clinically tested to ensure the best quality and efficacy.
WHAT DOES ROC®RETINOL
DO FOR YOUR SKIN?
RoC® products are clinically proven to work quickly and continue delivering cumulative results over time. In fact, RoC is one of the only skincare brands to have completed a one-year clinical study proving that the benefits of RoC® Retinol formulas increase with time and do not plateau.  Year after year, RoC formulas are dermatologist-recommended and recognized by industry leaders.
CLINICALLY PROVEN RESULTS
RoC's proprietary Retinol technology helps speed cell turnover to remove old, dull skin cells and delivers real results for more vibrant, radiant looking skin. 
RoC® Retinol is uniquely formulated to be well-tolerated by skin. 
SHOP BEST SELLERS
POTENCY PRESERVING PACKAGING
RoC® Retinol formulas are housed in packaging that limit product exposure to light & air to preserve the integrity of the formula for maximum efficacy.  RoC® Retinol packaging includes opaque tubes, single-use biodegradable capsules, and opaque glass jars and bottles.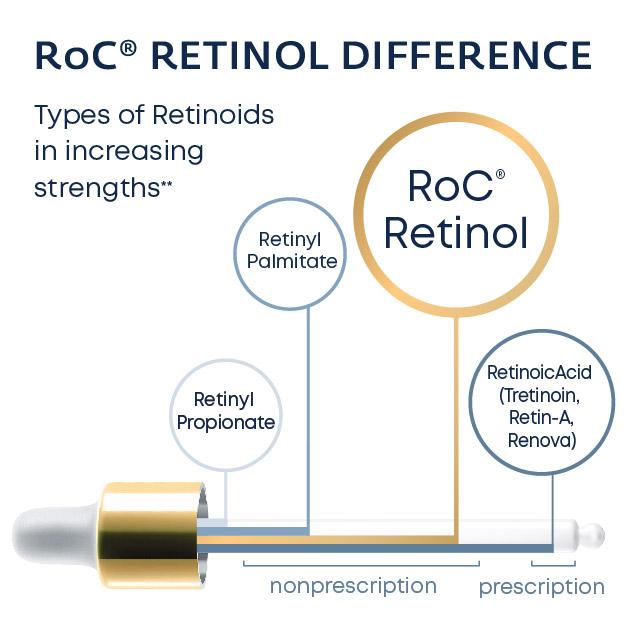 NOT ALL RETINOIDS ARE CREATED EQUAL
Retinol is one of the most effective forms of retinoids you can get without a prescription.  RoC® Retinol products come in a variety of formulas so you can seamlessly incorporate them into your skincare routine.  Experience the powerful results of Pure RoC®Retinol and see a firmer and smoother complexion.
HOW TO USE RETINOL
Whether you are new to Retinol or have used it before, see tips below to smoothly incorporate this powerhouse ingredient into your regimen.
FREQUENCY
NEW RETINOL USERS: Begin by using our Retinol product every other day to evaluate your skin's response, then gradually increase usage until you find your ideal skincare routine.
EXPERIENCED RETINOL USERS: While you've likely built up a sufficient tolerance to Retinol, we recommend monitoring your skin's response to new products and if needed, adjust your usage until you find your ideal skincare routine.
PROTECTION
Apply a sunscreen of SPF15 or higher during the day while using any RoC® Retinol product.
SHOP ROC® RETINOL