65 YEARS OF INNOVATION
1 FOCUS: YOU
Since 1957, RoC® ingenuity has brought true innovation to skincare. It began with the first-ever hypoallergenic skincare formulations, developed by Dr. Jean-Charles Lissarrague, a pharmacist at Pharmacie Rogé Cavaillès in Paris.
This was the first of multiple groundbreaking collaborations with dermatologists over the years, leading to the development of revolutionary products, ingredients and technologies. Dr. Lissarrague believed in innovative skincare solutions based on advanced science to help women defy their age and feel their absolute best, day after day.
For more than 65 years, innovation through collaboration has been at the heart of all we do at RoC®. 
After all, it has inspired a legacy of firsts…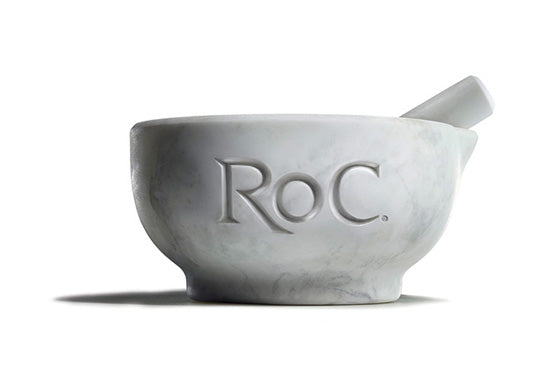 A LEGACY OF FIRSTS
Beginning in 1960, RoC® scientists developed the first broad spectrum UV protection in a sunscreen to proactively prevent signs of aging. Their fervent dedication to skincare innovation led to the invention of a method for stabilizing Retinol, an industry first – and to this day the greatest skin-aging discovery in the history of skincare.
By combining Retinol with other ingredients like Vitamin E and delivering it in pioneering packaging that preserved its efficacy, RoC® offered the first over-the-counter Retinol product, making it possible for daily use – and for women everywhere to recapture a smoother and healthy-looking complexion.
MORE ABOUT RETINOL
UV sunscreen and Retinol were just the beginning. RoC® continues to imagine, innovate, and invent new formulas and technologies with the power to address your skin concerns – from dryness, dullness and dark spots to visible wrinkles and other complexion irregularities. 
Our ongoing commitment is to develop the products you need to look and feel your best at every age and every stage of your life.
DERMATOLOGIST PARTNERSHIPS
From our earliest days, RoC®scientists have partnered with leading dermatologists for the most informed insights into the functions and needs of human skin. By understanding the inner workings of the skin down to the cellular level, we are best positioned to develop effective ingredient and formula technologies that can deliver the kind of results you expect from scientifically developed and clinically proven skincare.
AWARD-WINNING PRODUCTS
RoC products are recognized annually for their exceptional efficacy and innovation. Powered by our award-winning Pure RoC Retinol®  and other proven ingredients, numerous RoC facial skincare products have been recently recognized by beauty magazines and editors for their exceptional, clinically proven benefits to improve the healthy appearance of your skin.
SHOP AWARD WINNERS
SCIENCE LED.
100% CLINICALLY PROVEN
Every RoC® product is science led – developed and tested to ensure the highest quality and efficacy. Our scientists have researched up to 1,000 ingredients before creating the final formula, one that delivers real results and assures we prove our promises…in every product, every time.
Every RoC® formula undergoes rigorous testing to evaluate and assure its safety and efficacy. In fact, RoC® is one of the only manufacturers to conduct a one-year clinical study proving that the benefits of RoC® Retinol never plateau; instead, the formula becomes more effective with continued use.
SHOP ALL PRODUCTS
DISCOVER THE SCIENTIFIC BENEFITS OF OPTIMISM
We are on a mission to change attitudes about the future...from anxiety about aging to joy about living. Optimism is scientifically proven to have a positiveimpact on our mental wellbeing, stress reduction, skin health and longevity. Through the RoC #LookForwardProject, we want to inspire women to enjoy every age and look forward to all that's yet to come.
LEARN MORE
WE PROVE OUR PROMISES, YOU SEE AGE-DEFYING RESULTS.
SHOP NOW